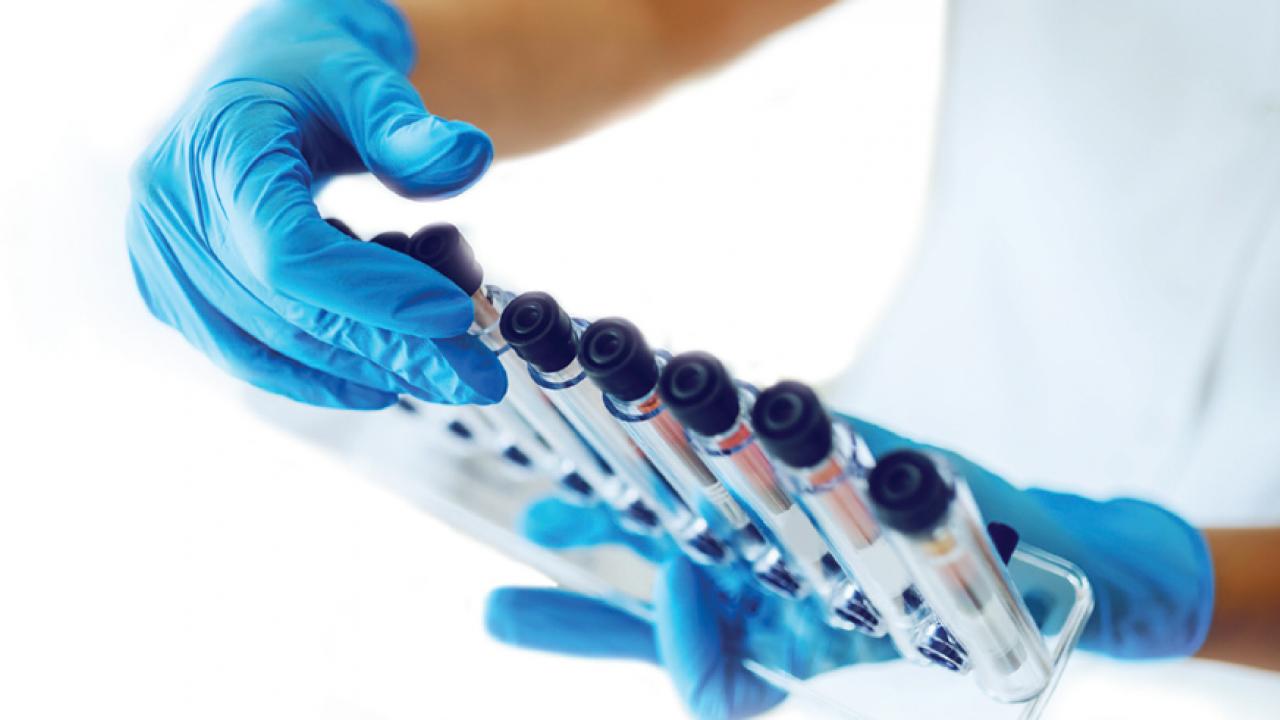 News Bites
Responding to California's Wildfires
2020 Wildfire Response California was hit by an unprecedented mass of lightning storms in August, igniting hundreds of wildfires across the state that lasted for weeks, including three of the largest recorded in history. One of those, the LNU Lightning Complex, occurred in an area just west of UC Davis.
As in years past, the school's Veterinary Emergency Response Team (VERT) was requested to deploy to evacuation centers and the field to assist in treating animals impacted by the fires. Comprised of faculty, staff and students, VERT helped treat more than 1,000 animals from horses and alpacas to chickens and goats.
Some of the more seriously injured animals were transported to the UC Davis veterinary hospital for treatment or brought in by owners and good Samaritans. In all, 35 animals received treatment at the hospital from that fire alone. BBC News, NBC Bay Area, ABC 10 and many other news outlets covered the story of UC Davis veterinary teams providing compassionate care for these survivors.
Disaster Response Database
Over the past few years, VERT has improved disaster response through careful documentation of patients in the field and the medical issues they present such as burns, respiratory disease, gastrointestinal illnesses, and lacerations. They have also documented illness severity, behavior, treatment and disposition. During the Camp Fire in November of 2018, Dr. Hayley Dieckmann '20 was a DVM student volunteer with VERT, coordinating teams for deployment to large animal evacuation centers. She oversaw the use of a standardized survey form to document patients including horses, pigs, llamas, goats, sheep, and chickens among other species.
With the assistance of faculty mentors, Drs. John Madigan and Lais Costa, Dieckmann published the results of this database, titled "Implementation of an Animal Health Database in Response to the 2018 California Camp Fire," in the Journal of the American Veterinary Medical Association. "Having a database like this helps us better understand how animals are affected in wildfire disasters and therefore, what supplies and personnel we need to be prepared to treat them and provide the best standard of care possible," she said. "This approach could really help people, communities, veterinarians and first responder agencies around the country."
---
Building a Stronger, More Diverse Community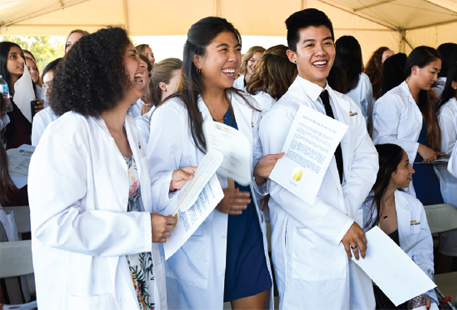 One of the five major goals of the school's updated Strategic Plan is to "promote a vibrant and diverse community of faculty, staff and students to advance the school's mission in an engaged and respectful community." So, when the Black Lives Matter movement took hold this spring in response to several acts of injustice and violence against African Americans, the mission of the Community Council already being formed took on a fresh urgency to build upon the initiatives already in place.
"We are in the midst of a social reckoning with our past," said  Dean Michael Lairmore. "Recent events have made us confront  the persistent history of racism in our country. In addition, the COVID-19 pandemic and its disproportionate effects on African American and other communities of color dramatically illustrates the failures of our healthcare and social justice systems."
The council, which met for the first time in August, is comprised of faculty, staff and students to promote the Principles of Community, improve human welfare, and enhance diversity and inclusion. They will accomplish this by developing community-building activities and programs; encouraging dialogue and communication across all groups; identifying resources to educate the school community on issues such as happiness and generosity; and advancing solutions for work-life integration; mental health and wellness; and diversity, inclusion and equity.
---
Expanding Disease Research in the Amazon and Congo Basin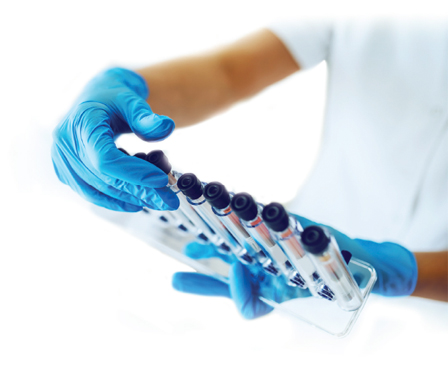 The perimeters of the Amazon and Congo Basin forests are highly vulnerable to new and emerging infectious diseases. To better understand how viruses emerge and spill over from wildlife to humans in these regions, a new research center –  the EpiCenter for Emerging Infectious Disease Intelligence – has been created in the school's One Health Institute. 
Funded with $8 million over five years by the National Institutes of Health, the center is one of 10 established in a network around the globe where emerging and re-emerging infectious disease outbreaks are likely to occur.
"When the world emerges from the COVID-19 pandemic, we need to be sure to not let our guard down," said lead principal investigator and the new center's director  Dr. Christine Kreuder Johnson. "We need to expand international collaborations in infectious disease research that integrate human, animal and environmental health  to help prevent the spread of emerging diseases."
---
Deans Discuss: COVID-19 Video Podcast

America's first community-acquired case of COVID-19 arrived at the UC Davis Medical Center on February 26, 2020. UC Davis experts immediately began working together to find solutions to a new global threat. Today their collective experience in virology, zoonotic diseases, human health, medicine, engineering and animal model research is helping us tackle the crisis at all levels, from the field and the laboratory to the hospital bed and beyond.
In a newly created Deans Discuss: COVID-19 video podcast, hosts Michael D. Lairmore, dean of the School of Veterinary Medicine, and Allison Brashear, dean of the School of Medicine, examine the collaborations taking place across UC Davis and consider the pathways to progress that lie ahead. To date, topics have included the need for rapid COVID-19 testing, clinical trials, pandemic stress, innovative research and hope for a future vaccine. Listen to the podcast 
---
New Grant to Prevent Livestock Pandemics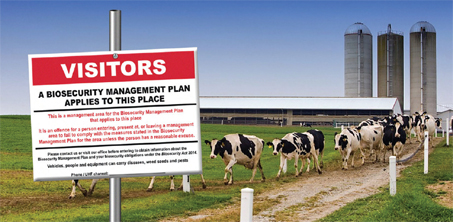 Controlling invasive foreign animal diseases such as high-pathogenic avian influenza and virulent Newcastle disease in the western states  has been historically challenging, said Dr. Mike Payne, specialist with  the school's Western Institute for Food Safety and Security (WIFSS).  
In large part, those difficulties arise from lack of preparation and a  need for enhanced biosecurity plans. To help address this problem, WIFSS has been awarded a $560k grant from the USDA National Animal Disease Preparedness and Response Program to develop a collaborative partnership between the university, federal agencies, state agencies, and the animal agriculture industry  to increase preparedness on dairy farms and poultry-raising facilities. The partnership will include state regulatory and industry representatives from California, Oregon, and Arizona, and will be conducted under the leadership of Payne and Dr. Bennie Osburn (former dean of the school). 
---
Cat Coronavirus Drugs Provide Insight to Fight COVID-19
Greater media attention to the parallels between human and veterinary medicine are helping the public understand how the connections between animal and human health can help tackle new viruses. As the COVID-19 pandemic took hold last spring, science journalists began paying attention to drugs used to successfully treat feline infectious peritonitis (FIP), a coronavirus in cats, which is almost always fatal.
Coverage by ScienceNews and several other outlets highlighted decades-long research by Dr. Niels Pedersen on FIP and two drugs that have been found effective in curing it. One of the drugs, named GC376, disables a key enzyme that some coronaviruses, including SARS-CoV-2, use to replicate. The other, called GS-441524, is an antiviral cousin of remdesivir – the first drug found to speed people's recovery from COVID-19 in clinical trials. Neither drug has yet been approved by the U.S. Food and Drug Administration for use in cats.