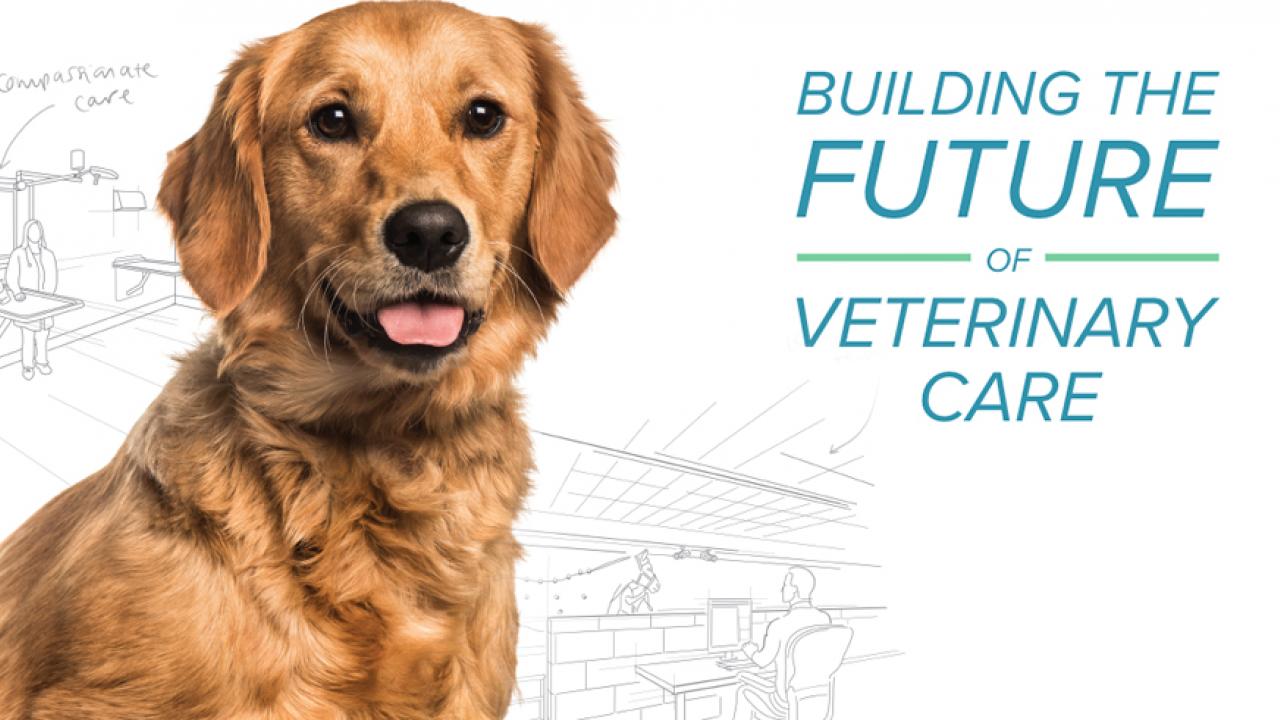 Building the Future of Veterinary Care
UC Davis leads the way in veterinary medicine thanks to the partnership of donors large and small.
Dr. Sarah le Jeune often evaluates sport horses for performance-related injuries. But she lacks one important tool for a full assessment – an arena large enough to ride the horse.
"Certain injuries only become apparent when the horse is ridden," said le Jeune, an experienced rider and chief of the Equine Integrative Sports Medicine Service. "We are currently missing this piece of information due to our small arena."
Observing a horse under saddle and performing the complex movements associated with its sport discipline, before and after diagnostic nerve blocks, can improve the accuracy of an examination and lead to better treatment.
Plans for a new arena – slated to be more than three times larger than the current one –  in the future Veterinary Medical Center will allow le Jeune and other clinicians to observe horses perform and to conduct under-saddle lameness evaluations. This is just one of many advantages the center will offer UC Davis veterinarians as it helps them create a  21st-century clinical space on par with the school's research and teaching facilities.
The Veterinary Medical Center fundraising campaign – with its ambitious $500 million goal – is taking one of the lead roles in UC Davis' recently launched $2 billion "Expect Greater" campaign. This marks the largest philanthropic venture in the university's history, and the veterinary school's 25% portion of the goal is also its greatest fundraising challenge.
While fundraising for scholarships, research, and medical discoveries remains vital to Veterinary Medicine as part of this campaign, the new veterinary center is at the forefront of its philanthropic endeavors.
"When I first arrived at UC Davis in 2011,  I saw a veterinary school that was ahead of its time when it came to research and teaching facilities," said Dean Michael Lairmore. "And while our clinical achievements were outpacing the field, the hospital's facilities left something to be desired."
Built in 1970 to see a fraction of its current caseload, the existing veterinary hospital is surrounded by seven research and teaching facilities built this century. 
"I immediately became committed to bringing a state-of-the-art medical center to the school and completing our 21st-century vision,"  added Lairmore.
The decade-long Veterinary Medical Center campaign commenced over the past two years with several renovation projects in the hospital – including six new examination rooms, a feline-only suite, laundry, and support facilities, locker rooms, and restrooms – and the construction of a new Large Animal Support Facility.
"Our new feline ward has completely transformed how we can care for cats, optimizing our team's efficiency," said Dr. Kate Hopper, director of the Small Animal Clinic. "The new examination rooms are a great example to clients and potential donors of not just how much the additional space is needed, but how far the hospital has come over its 50 years of service."
Plans for an entirely updated Small Animal Hospital will be the final phase of the decade-long project, coming in the late 2020s and more than doubling the size of the current clinical space for small animals.
In the center's current phase, plans are being finalized for an All Species Imaging Center where the world's largest veterinary radiology team will diagnose patients, and train students and residents with the most advanced imaging technologies in medicine – including CTs, MRIs, and PET scanners.
"This updated technology will give us the most information about a variety of different conditions that cause upper respiratory diseases in horses," said Dr. Scott Katzman, chief of the Equine Lameness and Surgery Service. "The ability to acquire CT images in standing horses will eliminate the need for general anesthesia and will replace radiography of the equine skull as the first imaging modality in challenging cases."
Greater in scope than any previous school's expansion, the Veterinary Medical Center campaign will then focus on transforming the Large Animal Clinic into three distinct treatment areas – the Equine Performance Center (EPC), the Equine Surgery and Critical Care Center, and the Livestock and Field Services Center.
"Transporting cattle, sheep and goats to a hospital can be a stressful situation for both the rancher and the animals," said Dr. Bret McNabb, director of the Large Animal Clinic. "That's a rancher's livelihood we're handling, and our new space will optimize safety and efficiency throughout that process."
On the equine side, the center will bring research into the clinic and help veterinarians better care for sport horses. Researchers in UC Davis' J.D. Wheat  Veterinary Orthopedic Research Laboratory (VORL) have discovered that pre-existing injuries are associated with the majority of fatalities in horses. Elements of the proposed EPC are centered on eliminating those fatalities by discovering catastrophic injuries sooner.
The EPC will blend clinical services and data collection for research. The facility will include an arena with high-speed motion cameras to help detect subtle gait abnormalities. The cameras capture 1,000 frames per second, which can uncover potential injuries at an earlier stage or find the optimal movement pattern for a horse to perform at its highest potential.
The Gait Analysis Diagnostic Unit – which provides sophisticated kinematic analyses of a horse's gait and the efficacy of treatment of a musculoskeletal injury or disease – will be integrated into the arena and adjacent trotting lane. A force plate embedded in the trotting lane will help determine the distribution of weight throughout all four limbs.
By bringing aspects of the VORL directly into the clinic, equine veterinarians will be able to utilize proven research results and sophisticated analytical equipment. With VORL focusing much of its attention on racehorse injuries, the integration of the lab's expertise into the diagnostic arena will bring added benefit to sport horses brought to the EPC.
"We believe that the Veterinary Medical Center will become a comprehensive center for veterinary medicine unlike any in the world," said Chief Veterinary Medical Officer Dr. Jane Sykes. "Creative design will better allow collaboration among our integrated teams of clinicians, researchers, and students. Multiple species will benefit from transformational research in areas from stem cell treatments to orthopedic advancements to alternative therapies."
As the top-ranked national and global veterinary school, UC Davis sets the bar for clinical and scientific discoveries, and for training the next generation of veterinary clinicians and researchers.
"One thing that excites me the most about the future center is our enhanced ability to train specialists," said Sykes. "With the largest resident program in the country, it is our duty to provide premier specialty training to our residents, interns, and fellows. They are the surgeons, cardiologists, ophthalmologists, critical care specialists, internists, and other innovative care experts of tomorrow."
The new hospital will be almost entirely paid for by donations from grateful clients, alumni, community members, and committed animal lovers. The project will utilize a multi-phased platform and thoughtful approach for building new facilities while maintaining the integrity of care in the existing space.
"Since we are building the center in our  current clinical location, we need to continue meeting our teaching and training obligations while providing top-notch care for our patients," said Lairmore. "By phasing the project over a decade, we are able to maintain those high standards, and not overwhelm our team and clients with construction."
Currently, about $100 million of the $500 million goal has been met.
"The school would not be where it is today without our donors," said Lairmore. "Whether they are able to give large or small amounts, our partners realize that research, teaching, innovation, and clinical advancement of veterinary medicine is the key to improving animal, human and environmental health.  Their combined efforts make a profound significance in shaping our future."